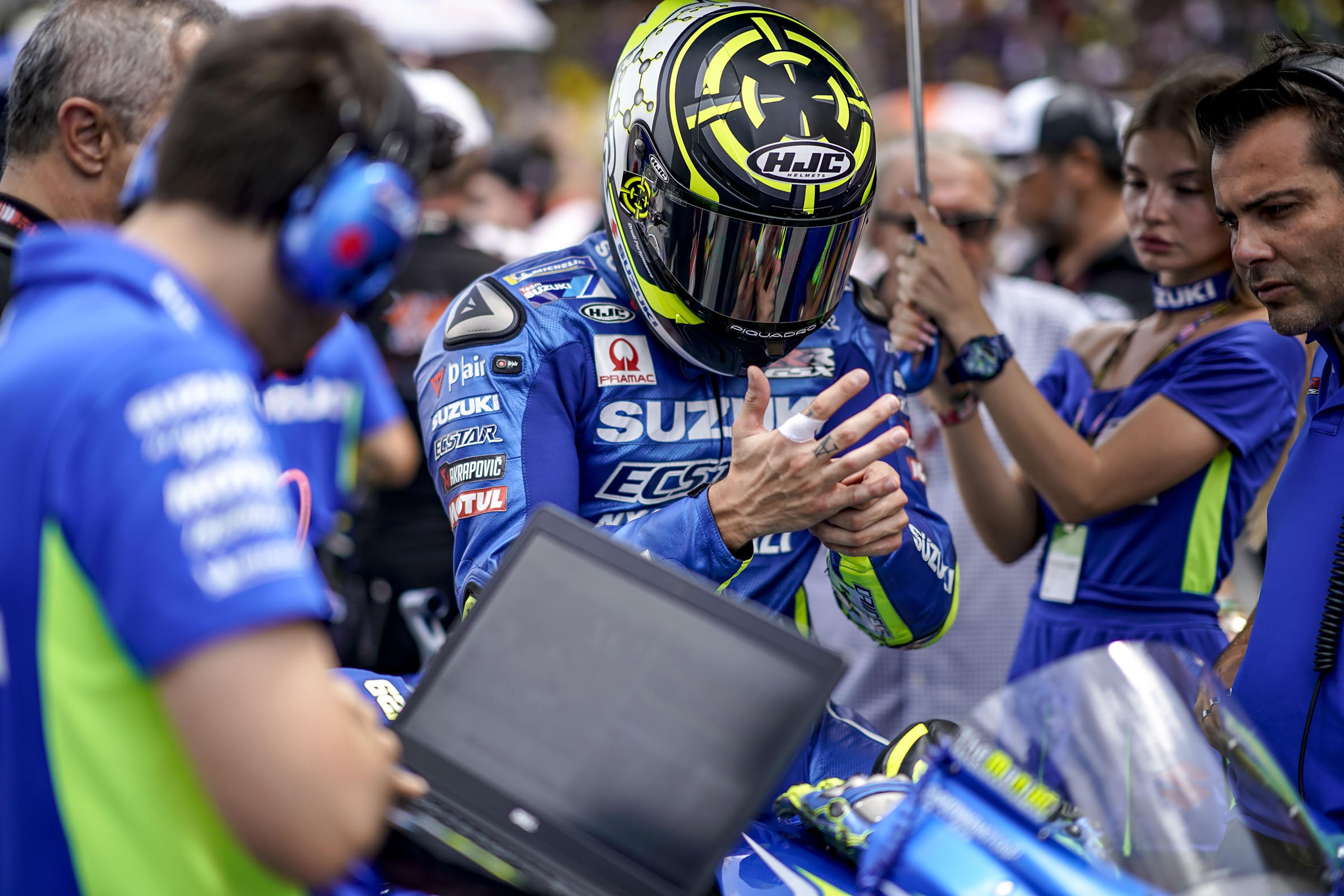 Team Suzuki Press Office – November 14.
With three podiums in the last three races, and eight total in the season, Team SUZUKI ECSTAR is on the crest of a wave at the moment, and the hope for Valencia is to continue on this positive path. The GP de la Comunitat Valenciana is the last round of the 2018 season, which gives the team even more motivation to finish the championship on a high. Preparations will also begin for the first 2019 test which follows directly after the race weekend.
Alex Rins arrives in Valencia feeling enthusiastic and positive after the excellent second place he achieved in Malaysia after a hard fought race. Last year the young Spaniard placed 4th in the Valencian GP, and this performance will also be fresh in his mind. His results aboard the GSX-RR have been improving race-by-race this year, and the layout of the Ricardo Tormo circuit could see him bag another strong finish.
After swallowing the disappointment of a crash in Malaysia, Andrea Iannone is ready for his last race in Suzuki colours, where he hopes for a positive weekend. Despite the DNF, he had excellent pace throughout the weekend in Sepang and his 2nd place finish in Australia confirmed that his current feeling with the GSX-RR could allow him a great end to the season in Spain.
Davide Brivio – Team Manager
"We arrive in Valencia after a run of great results. We've scored 4 podiums in last 5 races, and 8 in total so far this season. We are delighted with how we've managed to turn the situation around compared to last year. In Valencia we will try again, we know it's not easy but… why not? We always try our best. I'm sure the riders also have extra motivation: it will be Andrea's last race with us so he will try to bow out with a great result. While Alex will be at home in Spain and the two podiums in the fly-aways have given him further confidence. Let's enjoy this last race!"
Alex Rins
"For sure we arrive in Valencia with a lot of enthusiasm, due to the improved performance and the podiums. Our target now is pretty clear and also obvious: we want to go for the top step of the podium! We've proved that we are ready for it, the bike has improved and so has my riding, we have to work well and try our best. The circuit is a good one, almost all the riders like Valencia, and our GSX-RR can be a good machine for this layout."
Andrea Iannone
"Valencia is a nice track and it could be good for us. Last year we qualified on the front row and both Alex and I had a good race. If we consider how much we improved since 2017, we can definitely expect a positive weekend. We are in a really good moment now; I'm feeling positive and also in Malaysia I felt I could fight for the podium. Let's try to give all we have, be consistent and always stay close to the top, that way we can aim for a good result. It would be a nice way to part."
Circuit Info:
The Circuito de la Comunitat Valenciana is a facility that was completed in 1999 and has been hosting the GP ever since. The track is small and tight, but the complex can hold around 150,000 fans in the stadium-style grandstands. And as it is the final GP of the season, many people are expected to come and support their heroes. The MotoGP™ round is held on a 4km track comprised of five right-hand corners, nine left-handers, and a 650m straight, for a total distance of 120.2 km (74.7 miles) over 30 laps.
2017 Stats
ANDREA IANNONE
Qualifying: 3rd – 1'30.399 +0.502
Race: 6th – +14.516
ALEX RINS
Qualifying: 10th – 1'30.972 +1.075
Race: 4th – +13.567