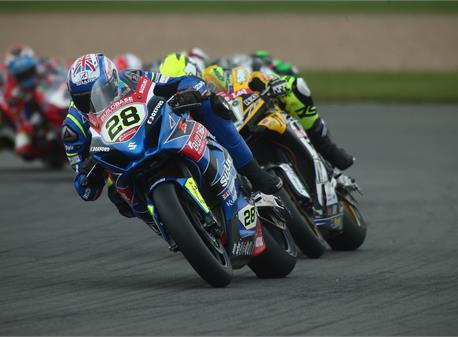 Team Suzuki Press Office – April 12.
The Buildbase Suzuki team heads to round two of the Bennetts British Superbike Championship this weekend flying high after Bradley Ray did the double at the opening round at Donington Park, while his team-mate, Billy McConnell won both halves of Sunday's Superstock 1000 race.
While everyone in the team is remaining grounded, with plenty of racing still to go in 2018, confidence is high as the championship heads to Brands Hatch, Kent, with both Ray and McConnell at the top of the points tables. Richard Cooper, riding the team's second GSX-R1000 Superbike, is also heading into the weekend full of optimism, after enjoying two positive tests at Darley Moor and Mallory Park following a challenging opening round.
Bradley Ray:
"Confidence is obviously quite high after Donington, but we're not letting anything go to our heads and are staying grounded. Brands Hatch Indy is always a pretty difficult round as it's so tight and lap times are all really close, so qualifying will be vital. But the bike worked really well at Donington and I felt comfortable on it, so we'll go out in FP1 with a similar setup, get some laps in and some data, and then see where we're at. I'm feeling good though. Last year I had a good weekend here. From quite far down on the grid after a crash we finished 12th and eighth, which I didn't think was too bad in my first year on a Superbike. Plus, it's my local track, I've enjoyed it here in the past, so hopefully we can get two more good results."
Richard Cooper:
"Round one was disappointing for me, but we've worked to fix the problems we had and I'm feeling optimistic ahead of the weekend. We got back to the workshop after Donington and went through everything, and we essentially started again with the bike. Since then we have managed to get out and do some riding at Darley Moor and Mallory. It's been good as I think we've found an answer to the issues we had, and it's good to be going into this weekend with just a more positive feeling on the bike. Hopefully the weather keeps picking-up like it's supposed to, and we can run the softer tyre; and then I think we'll be in a much better place than we were two weeks ago."
Billy McConnell:
"I'm feeling really good. Round one has sort of set the benchmark really, so if we can have another weekend like that I think we'll all be happy. The bike's working really well and honestly, the GSX-R1000 is making my job easier. I just need as much bike time as I can get to really dial myself in, but we're in a good place. We had a run out at Mallory over the weekend too and tried some bits and pieces, so we're heading into this weekend feeling confident. Brands Indy has been good to me in the past. Qualifying is difficult there with so little space and so many riders, but the good thing is if you do mess up a lap you get round quickly to try again."
Steve Hicken – Team Manager:
"It's easy for people to get carried away after the success from Donington, but we're all keeping our feet on the ground – this is arguably the world's toughest domestic championship with some great teams and riders, so repeating that success won't be easy. That said, we're certainly going into the weekend full of confidence knowing we can be competitive and challenge at the front in both Superbike and Superstock.
"With Brad we'll just try to pick up where we left off, same with Billy, too. Richard obviously struggled a little more at round one with some chatter but we're hopeful that we've cured that after some hard work between the two rounds. We pretty much started again with the bike, and think we've turned a corner. So hopefully we can enjoy a better weekend at Brands."